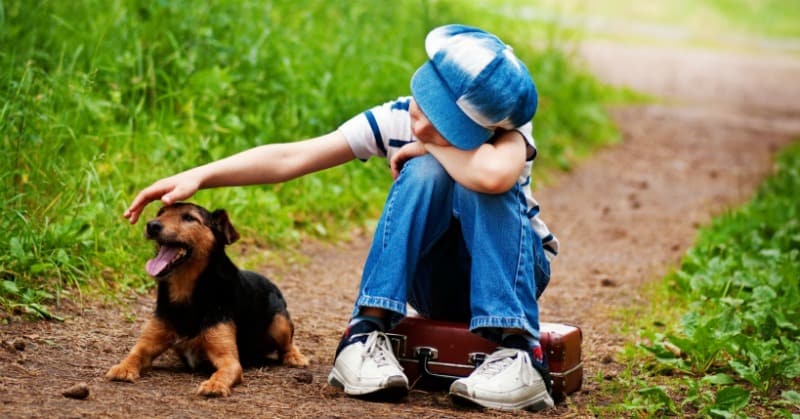 Majority of the people share an emotional bond with their pets and consider them a family member. This companionship between an individual and his pet brings fun and joy in the life of the pet owner. Therefore, it is natural to feel distressed and sad when your beloved pet dies. Such a loss triggers emotions of grief, sorrow, and agony. Only a few people realize and understand this moment of pain of losing your pet, resulting in little, or sometimes no, emotional comfort from the people around you.
Losing a pet means losing an animal friend — because your pet was not only close to you but also supported you through all the up's and down's of your life. Your pet was with you whenever you wanted someone to be around. So it is certain that you will feel a painful sense of loss.
Therefore, experiencing a loss is an inevitable phase of owning a pet.
No matter what the reasons behind your loss are, we have healthy ways to guide you so that you can cope up with your loss. It is necessary to relax and begin the process of moving on. Perhaps when you feel right, you can open your doors for another animal companion.
We have gathered a set of guidelines and pro-tips to help you tackle with the grief of your pet loss. These tips will allow you to handle the sorrow with a positive approach.
You lost a pet. It is your grief, and there should be no embarrassment in letting those emotions out. It's normal to be sad, frustrated or to cry when you want. It is in human nature to feel devastated by a loss of a beloved, be it a family member or an animal friend. Let your sorrow flow out until you are ready to let go of your sadness.
Look for help and support
It is ok to look for help and support from your family or friends who understand your misery. An in-depth discussion always helps to relax and soothe your pain. Also, people experiencing the same loss may better understand your sentiments providing relevant advice so that you can cope up with the loss. Pet loss support groups or online pet loss message boards may prove to be helpful in this matter.
Focus on the positive aspects
The time spent with your beloved pet was memorable, so recall it happily. Compile an album of pictures, make a scrapbook, or plant a flower or, a tree in memory of your pet., encouraging you to remember only the good time spent with your pet. Ultimately, recognizing the fun time with your pet will help and motivate you to move on with this phase.
Stay busy and connected with the world
Sitting idle will worsen your pain and sorrow of losing your pet. This emotional stress will reduce your physical and mental energy. Therefore, it is necessary to look after yourself. It will be a better option if you stayed busy with your routine and connected with your family and friends. Also, it will be essential to eat a healthy diet, take proper rest, exercise regularly, meet people and stay busy with your daily routine. These activities will boost your mood and bring positive energy. Staying busy will help you to get over your sorrow.
Find a new purpose in a life
Give time to your interests or hobbies, visit friends, decide to volunteer for pets, join rescue groups or pick and choose anything that brings you joy. Do what you like.  It will be essential to boost your morale and lift your spirit during this phase. Perhaps, when you feel right, you can own another pet and bring around the happy moments.
A Pro-Tip
To conclude, the best advice would be to share your life with another animal friend. Open your doors for another animal companion and create more fun and happy moments with a new pet. However, it is better to receive pet loss support first. The decision of owning another pet is right only when you are emotionally ready to let another animal friend enter your life.
The decision is yours. Make it a happy one.
Author Bio
Written by Alan Steven, a certified professional counsellor dealing with issues concerning depression, stress, anxiety, trauma, self-esteem, and anger.